By Kristen Holshoe, BS, MLS (ASCP)
April 05, 2018
Laboratories across the world are tasked with increasing productivity and efficiency while maintaining safety and quality. One of the ways this has been made possible is with the introduction of laboratory automation. Automation increases productivity, decreases turn-around-time, standardizes workflow, and delivers valuable data collection. Laboratory automation has also been proven to help labs set new safety goals and evaluate new acceptable standards. See How Lab Automation is Reducing Diagnostic Errors.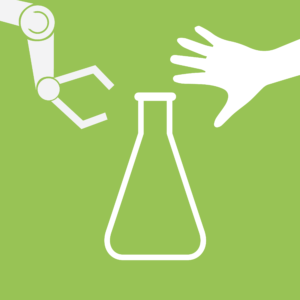 So, with all this automation, do we still need the laboratory scientist?
Lab automation has been implemented primarily in the analytical phase of testing. However, the majority of errors are usually encountered in either the pre or post-analytical phase. This means laboratory scientists are still an important "line of defense" in terms of patient safety. Instruments are not smart enough to know when specimens don't fit our acceptability criteria. An instrument may produce discrepant results and flags – but it requires a lab scientist to figure out which of these results are legitimate and which are discrepant.
Results from lab automation require some level of review or interpretation prior to reporting, especially since the instruments have no ability to put results into context for each individual patient. Laboratories utilizing auto-verification rely heavily on lab scientists to establish logic and rules that drive procedures. Every time a lab scientist looks at a set of results – they need to determine if those results seem to fit the clinical picture of the patient. Is what the instrument is reporting make sense based on this person's sex? What about their age group? Do they have any recent previous results that are starkly different? Is there anything that is necessary to verbally communicate to the patients' provider (for example critical values)? Is there an opportunity here to provide some education on the importance of specimen acceptability? These are all questions any laboratory scientist is trained to ask themselves repeatedly when evaluating patient results.
A common conversation between lab scientists is how much automation has impacted their career and how their workload has shifted from hands-on testing to becoming a sort of "mechanic". From quality control, calibrations, accuracy and precision studies, correlations, and reagent monitoring and loading – lab scientists are certainly still busy. The advances in laboratory automation have had an effect on standards they must meet and studies they must perform to be considered compliant for an inspection. In addition, laboratory analyzers, particularly those in hospital labs, never stop. Think of that for a moment. An intricate instrument with hundreds of moving parts, sensors, and probes running 24/7, 365 days a year. As a result of this, instrument downtimes are to be expected and lab scientists spend much of their time troubleshooting and repairing these complicated analyzers so that patient care may continue.
One of the biggest misconceptions in an automated laboratory is that fewer technical staff will be needed. The reality is that – the workload is essentially the same– it's just different work. Lab scientists are performing completely different tasks now than they did twenty years ago. Along with the push for laboratory automation, a multitude of new responsibilities have also been added to the lab scientists' plate. Labs struggling to cover critical positions on committees, CAP inspections, or QA programs may benefit from automation. There's so much more to a laboratory than cranking out test results!
---
---
Do you want to be inspection ready at all times? Download our free guide to learn the 5 most common inspection deficiencies and how to avoid them. Then you'll be ready for an inspection at any given time. Click the button below to download now:
How do you feel automation has impacted your laboratory? Share your thoughts in the comment section below!