By Brandy Neide, MBA, MT(ASCP)
August 11, 2016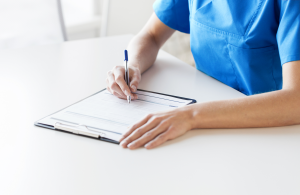 As laboratory professionals, from the beginning of our careers, we learn that documentation is everything. If it's not documented, it didn't happen. We speak a language of acronyms: QC, QA, CLSI, CAP, JCAHO, and LI—the list could go on. We live and breathe by regulatory standards and guidelines. We dot our I's and cross our T's. This is our way of life. And if we're honest with ourselves, we thrive in this environment. We are, after all, the ones who still balance our checkbooks the good old-fashioned way. We keep a Sharpie® by the fridge so that we can write "open" dates on our ketchup bottles. We find some sense of comfort in living within these rigid boundaries.
Yet, despite adhering to some of the strictest regulatory standards in any industry, we have still to master one facet of them. Laboratories across the country struggle to adequately fulfill the regulatory standards related to competency assessment. By now, I'm sure we are all accustomed to the six evaluation methods routinely required:

Direct observation of routine test performance
Monitoring, recording, and reporting of test results
Review of intermediate test results or worksheets, QC, proficiency testing, maintenance
Direct observation of instrument maintenance and function
Assessment of test performance through blind testing or proficiency testing
Assessment of problem-solving skills (quizzes, troubleshooting, etc.)

We do not struggle so much with actually performing these evaluation requirements, but with actually documenting them. And remember, if it's not documented, it never happened. Laboratories face staffing shortages, budget deficits, and constantly evolving regulatory standards in a fast-paced work environment. At the same time, we are required to appropriately document exactly how we know that our laboratory professionals are competent enough to report a result that may determine a crucial next step in a patient's care or diagnosis. Depending on the number of staff and the variety of testing platforms in your laboratory, this task can be extremely daunting.
Do you want to be inspection ready at all times? Download our free guide to learn the 5 most common inspection deficiencies and how to avoid them. Then you'll be ready for an inspection at any given time. Click the button below to download now:


Here are 7 tips that could ease the burden of compliance in this area.

Delegate and designate (in writing) a couple of Lead Techs who will serve as Competency Assessors. They must qualify as a General Supervisor, as outlined in 42 CFR, Part 493 Subpart M of the CLIA regulations.


Use a standardized form for direct observation. This form should clearly outline what should be observed during the assessment (i.e., adherence to SOP, instrument maintenance and function, review of worksheets, QC, etc.). The form should be consistently used throughout the laboratory, for any bench or testing platform, and for any assessor.


Do not miss the new hires and 6-month competency assessments. These are easy to miss. If you are in a laboratory with high turnover, you will be up to your eyeballs in 6-month and annual assessments. I know, I've been there. Use Excel to keep an ongoing list of employee training dates, 6-month due dates, and annual due dates.


Use a learning management system or e-learning tool to create quizzes or assessments that are graded automatically. There are some free ones out there that can be customized to meet your needs, including the ability to add media, graphics, slide images, charts, etc.


Spread your competency assessments evenly throughout the calendar year. Create a schedule in which you are assessing a bench or a platform monthly. Leave the last month(s) of the year open for collecting and organizing your documentation.


Ask others what they are doing! Don't be shy. There are some great ideas and great tools out there, but if we don't talk to each other, we'll never know it! How has your laboratory managed to adequately track and document employee competency assessment? What are some best practices that you can share?


Better yet, pitch the binders, folders, and spreadsheets, and learn how you can automate this tedious task. You'll improve efficiency, remove errors, and a lot of headaches. That's what we have done and we have not looked back!

StaffReady Competency provides an advanced cloud-based solution that allows labs to automate, centralize, manage, and customize competency assessment procedures.