By Kristen Holshoe, BS, MLS (ASCP)
June 23, 2016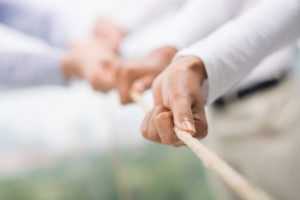 Whether you are making minor changes to your existing competency assessment program or giving it a major overhaul, you can expect some resistance along the way. Each year, the requirements for satisfying competency assessment have become increasingly stringent. While the intent is to ensure the training of technical laboratory staff is effective, it often feels like a revolving door of assessments that never end. As a new supervisor several years ago, one of my first projects was to tackle the competency assessment requirements and implement a new plan for our hematology and coagulation departments. Our current plan is far from perfect, but I noticed a few things along the way that helped to "soften the blow" to my staff.
Communication
Communicate the competency assessment requirements with your staff and acknowledge the challenging aspects it will present. Help them identify which aspects will present the most obstacles and brainstorm ideas to get past them together.


Ask for help
Request input from your staff on how to meet certain objectives or ask them to contribute to scheduling, blind sample creation, or documentation. By including your staff in the decision-making processes, you give them a sense of control over something they may otherwise feel is out of their hands.


Stick to your plan
Communicate a clear, concise plan in advance of implementation. Make sure the plan includes specific details such as assessments scheduled, timelines, due dates, and expected feedback. Try not to deviate from your plan, once your plan is in place. Keeping things consistent throughout the year will create a sense of reliability with your peers allowing them to know what to anticipate ahead of time.


Cover for your team
It's in your best interest to offer to help 'cover' your staff's bench duties if needed so they can fit in assessment assignments. In our laboratory, it isn't uncommon to have shorter due dates on certain blind sample assignments as specimen integrity is always a concern. At times, it can be challenging for techs to squeeze these in on specific days if the lab is especially busy. Offering to cover their bench duties for a small amount of time helps to foster a culture of teamwork – something many labs are sorely lacking.

Regardless of the program you use, competency assessment is an enormous undertaking for all laboratory staff, especially for those responsible for its creation and documentation. Implementing any significant changes can be difficult, but there are certain things you can do to make your life a little easier in the transition.
Do you want to be inspection ready at all times? Download our free guide to learn the 5 most common inspection deficiencies and how to avoid them. Then you'll be ready for an inspection at any given time. Click the button below to download now: