By Jessica McChesney, UX Developer
August 22, 2020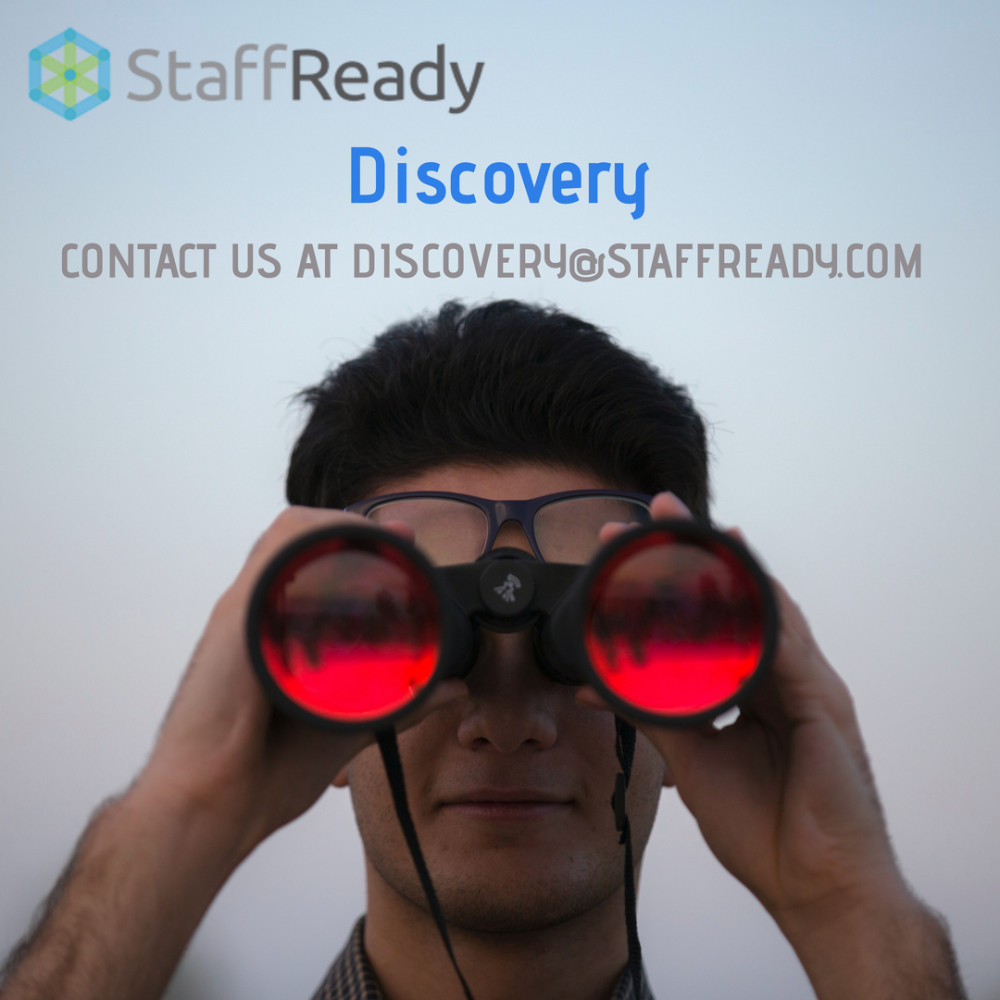 As a company, we've spent almost twenty years designing the core technology and features behind StaffReady. One of the secrets of our success has been regular input from our clients and other industry experts since the very beginning. Your success is our success.
We call that feedback loop the Discovery Process.

Our Discovery Process plays a major role in how we build the best software for your specific needs. But how exactly does Discovery work? And more importantly, what's the point?

You may have been contacted by one of our Customer Success Managers to join in on something called a 'Discovery Call'. This is the beginning of the process, and congratulations, you're already involved!

Simply put, we want to talk to our clients, people we know who need better solutions for their complex, daily management challenges. We want to understand your daily struggles and what your specific needs are for managing staff, paperwork, regulations, schedules, and other management challenges. Understanding your real-world challenges is a key part of Discovery.

For our clients using StaffReady, we want to engage you actively in how you're using our products. We want to hear if there are areas of the software you love and maybe areas you are struggling with. Is there a feature you can't live without or something we need to fix? We are asking for feedback across the entire spectrum.

Sometimes Discovery Calls will also bring up moments where you need a Technical Support follow-up call. Perhaps there is a series of complex set of tasks that you're not sure how to proceed through. A Technical Support team member can walk you through the area and make sure you understand what you're doing.

We also want to hear about new ideas. Is there something you wish you could accomplish with StaffReady but can't? If we can add something to our software that makes your job easier, we want to figure out how to make that concept a reality. Discovery Calls are a great way to open the door for on-going communication as we plan and build new features. New ideas are never fully worked out in a single email or phone call.

Meaningful feedback truly covers an entire range from wild enthusiasm to frustration and also specific suggestions for improvement. This kind of feedback is actually a lot more important than it might seem.

New feature releases and bug fixes are also a great topic for Discovery Calls. After a software release, we're often wondering, "Is it working how they expected? Are they happy with the result?" Everyone likes to know that they did a good job, and this helps us make decisions for future improvements. If an area is very popular and very well-received, it's important for us to figure out why that is and how we might apply those principles to other areas.

As you can see, the Discovery Process provides key feedback in how we continue to iteratively improve StaffReady. You, our clients, are an integral part of this process. You help us determine our direction and you help keep us on track. We are always fully aware that you are the expert in your field. We want to provide a software solution that makes sense to you because you will be using it, not us.

StaffReady has many clients with many different needs. We must take on the complex task of designing software that works for different types of users, hopefully without making them feel like they've been handed a one-size-fits-all solution.

In order to do that, StaffReady is putting together an "insider team" of clients who will serve as our first point of contact. Our goal is to recruit users who are representative of our larger client base so that we can ensure we're not missing any perspectives.

We want this group to include Schedule Managers, Competency Admins, Document Owners - we want all major roles to be spoken for. Also, we want to make sure this group includes users from different industries. For example, a Schedule Manager working in a pharmacy will likely have different needs than a Schedule Manager working in a lab, but ultimately we need to make sure that our Manage Grid works for both.

The main purpose of this insider community will be to provide that critical feedback but much earlier in the development cycle of new features. We'd love to present this group with work that's still in progress so we can course-correct before we spend too much time going in the wrong direction.

At the beginning of the process, we might think we understand what we need to build, but a great deal of detail doesn't get noticed until the feature is actually in use. With expert feedback, things are caught in subsequent reviews that weren't mentioned in the initial planning meetings. Having these discussions early gives us time to make changes before software is released.

Do these ideas sound appealing to you? Do you have feedback on our product that you'd like to share? Are you interested in joining the "insider team" that has been described? Please let us know! Our Discovery Process is for your benefit, but we need you to make it work.

If the idea of being a part of our Discovery process interests you, please let us know at discovery@staffready.com.