By Karen Stockdale, MBA, BSN, RN
July 09, 2021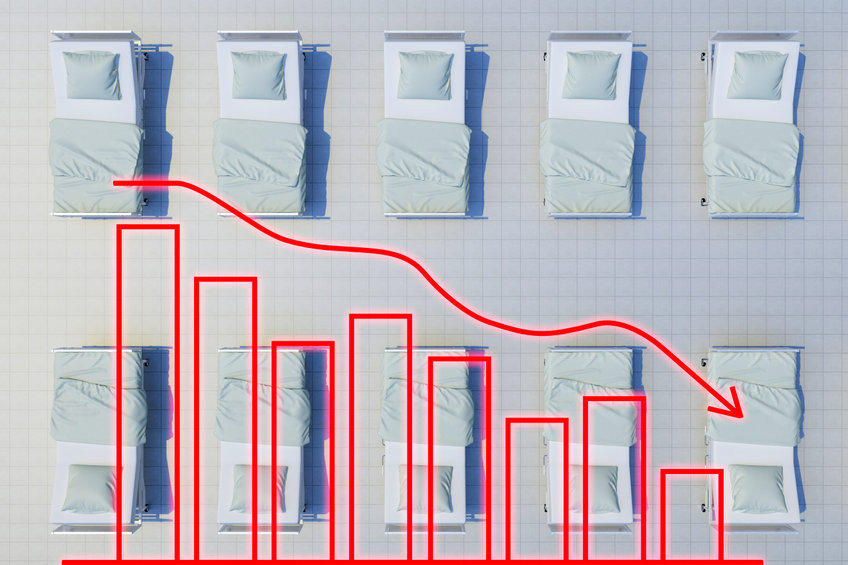 Just as the healthcare community begins to regroup from prolonged pandemic conditions, it is faced with a new challenge – the "catch-up" period. The COVID-19 pandemic disrupted the routine healthcare flow dramatically as providers had to scale back operations and patients avoided care out of fear. A report from the Urban Institute finds that one in three adults delayed health care because of concern about exposure to the coronavirus, because of limited access, or because of financial concerns. While some of the missed care might be of little impact, much of it was in the form of preventative screenings, chronic care management, and newly discovered conditions. This significant amount of foregone care is creating a ripple effect - impacting not only those patients' health outlook, but the healthcare staff caring for them and the economic landscape for years to come.

Patient Health
The true damage that a prolonged period of foregone care has caused may not be apparent for years. According to JAMA Oncology, more than 9 million cancer screenings have been missed or delayed during the pandemic. According to a recent article on the topic, Karen Reckamp, MD, director of Medical Oncology at Cedars Sinai reports -
"Screenings for breast, cervical, colon and lung cancer – across the board – have dropped more than 50% during COVID versus pre-COVID times."
Chronic diseases – which affect more than half of Americans – are also of concern. Pandemic conditions have added stress, derailed healthy eating habits, and increased alcohol intake for some. These factors, plus lack of health care can spell disaster for those with chronic diseases like hypertension, diabetes, and heart disease. By the time symptoms worsen, their disease may have progressed significantly, requiring more intervention than before.
The Urban Institute also reports that among those adults that postponed or missed care, the gap has worsened one or more health conditions, or limited their ability to work or perform daily activities. Although the true enormity of the consequences will not be known for a while, the mortality rate for non-COVID conditions is already increased, suggesting that not seeking care has resulted in more rapidly progressing disease.
Healthcare Staff
Broad decreases in utilization of non-COVID medical services has led to some staffing reductions and even office closures. This lowered supply of healthcare capacity could very well be met with an increased surge of demand in the near future. In some places this is already happening, and in some cases leads to more care avoidance due to frustration with scheduling and wait times. The problem of contracting and expanding to meet demand may pose future staffing problems when care resumes full force.
With all of the missed care out there, there is a pent-up demand poised to hit. Yes, telemedicine has taken on some of the burden, but with limitations on what can be done for cancer screenings and chronic disease treatment. Many physicians share anecdotal stories of patients who came in too late. In an American College of Physicians (ACP) report, Jacquelin W. Fincher, MD – president of the ACP – shares that two of her patients with chronic conditions missed appointments last year. By the time they resumed care in 2021, their pre-visit lab tests showed significant kidney deterioration. Both were treated in the hospital for kidney failure, one for three days and the other for five.
Many patients like these are going to resume care sometime in 2021, perhaps after they are fully vaccinated, only to find that they are now tackling worsening health problems that are progressing at a higher rate. This will mean higher acuity, more inpatient care, and a step back for the country's value-based care initiatives.
Economics
Health spending was way down in 2020, due to the decrease in utilization for non-COVID medical care. By Q2 2020 revenues had fallen overall by 8.9% over Q2 2019. The biggest losses have been absorbed by physician offices and outpatient care centers. Information from medical claims analysis compiled by Health System Tracker reveals that although telemedicine use grew rapidly during the pandemic, it is not enough to offset drops in in-person office visits.
Another very real effect from the COVID-19 pandemic is the ensuing recession. Patients have lost employment, are under-employed, or no longer have health insurance. Many have high deductibles and high out-of-pocket costs. When facing increased financial pressures, people often can't afford copays and prescriptions. All of this makes for a tough year in healthcare, even after the brunt of the pandemic has passed.
Meeting the Challenge
Many physicians are finding success with a mixture of several tactics to bring patients back into a regular care schedule.
Proactively reaching out to patients via telephone who have missed an appointment or screening can be helpful – as well as finding out the underlying reasons why. Patients trust their doctors, and hearing what the clinic is doing to mitigate COVID-19 risk, or the reasons why they need to be seen can be very impactful.
Routine follow-up calls. Some patients are embarrassed that they cannot afford prescriptions and will not reach out to their provider. Routine calls or a scheduled telehealth visit can get to the root of these problems and help patients access available programs for help.
Remote patient monitoring. Setting up devices in the home that send vital health information to the provider, such as blood pressure, glucose readings, and daily weights can help chronic disease patients learn to manage conditions much more effectively.
Pushing out education. The more patients know about their condition and the importance of regular care, the more likely they are to stay on schedule. Also, education about COVID-19, community resources for affording healthcare, and the clinic protocols for social distancing can allay fears.
The country may be in the long-haul fallout phases of the pandemic but tackling these problems head-on will be the quickest way to some semblance of normal.
Have a thought on this topic? Comment on LinkedIn

Looking for answers on Clinical Workforce Management? StaffReady can help.
Follow us on LinkedIn
Follow us on Facebook
Photo credit: Cathy Yeulet