By Brandy Neide, MBA, MT(ASCP)
October 10, 2016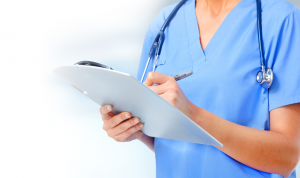 Have you heard the news that the Centers for Medicaid & Medicare Services (CMS), the government agency that oversees the Clinical Laboratory Improvement Amendments (CLIA), recently issued a memorandum stating that a Bachelor of Science in Nursing is essentially equivalent to a Bachelor's degree in Biological Science allowing nurses to perform high complexity testing? If you're anything like me, you're seeing red flags. Nurses are some of the hardest workers in healthcare, often performing the "dirty" jobs that no one else wants to do. They provide curative care with compassion and concern. They work long hours — on weekends, holidays, and overnights. They are on the receiving end of every friend and relative's medical question: checking out Aunt Thelma's warts, cousin Betty's rash, and little Bobbie's oozing sore. They are well-educated, often specializing in various subspecialties like critical care, cardiac, or labor and delivery. Nurses are absolutely amazing.

One thing that they are not, however (and I think most nurses would agree), are trained laboratorians. The education and training required to perform moderate and high complexity clinical laboratory diagnostics is specialized, comprehensive, and technical.

Clinical Laboratory Scientists:
Receive specialized training which typically includes more required coursework in the traditional sciences such as biology and chemistry.
Perform hours of hands-on, wet laboratory practice through required coursework, simulated laboratory experience, and real-life clinical practicums.
Learn about quality control, quality assurance, and statistics, which become an integral part of our daily work in the laboratory (Hello, Levey-Jennings!).
Become experts in their specialties. They can troubleshoot highly technical, very expensive instrumentation. They can field questions related to disease state or diagnosis with physicians and clinicians. They educate post-doctoral fellows, medical residents, and students, imparting valuable wisdom gained through education and experience in the laboratory.
Live and breathe by regulatory standards. Proficiency testing, competency assessment, and assay validation/troubleshooting are routine tasks throughout the day.
It seems unlikely that we will see nurses performing high-complexity laboratory testing in the hospital setting. However, this may be something that we begin to see in doctors' offices and those urgent care clinics that are popping up on every street corner. While I have no doubt that a nurse, if truly educated and adequately trained in clinical laboratory science could indeed perform high-complexity testing, I do have my doubts that it can be done at the same time they are performing the many job responsibilities of a nurse. The potential for error poses great risk of poor patient outcome, because like it or not, lab testing really does matter—a decimal point may be the difference between life and death. In my opinion, there is no question that nursing professionals and laboratory professionals are both well-equipped and technically specialized to perform as experts in their chosen fields. We both serve the same patient population, and I believe that we would serve our patients best by performing the highest quality work in the areas in which we are most competent.